Four of the eight Chapels of Light at the Lourdes shrine went up in smoke during the night of July 9. Pilgrims will still be able to access the site to place their candles.
Aviolent fire broke out during the night of July at the Sanctuary in Lourdes, France, at the Chapels of Light installed at the edge of the Gave de Pau, which shelter the candles that pilgrims come to deposit there. Although the fire was quickly brought under control by firefighters dispatched to the site by shrine security, three chapels were completely destroyed by the flames.
Pilgrims will still be able to light their candles in four other chapels that remain open. Until the chapels are rebuilt, candle stands will be installed in the shrine meadow in the coming weeks. While the temporary arrangements are being made, large candles will be entrusted to the shrine's fire makers. Once lit on site, they will be burned as soon as possible.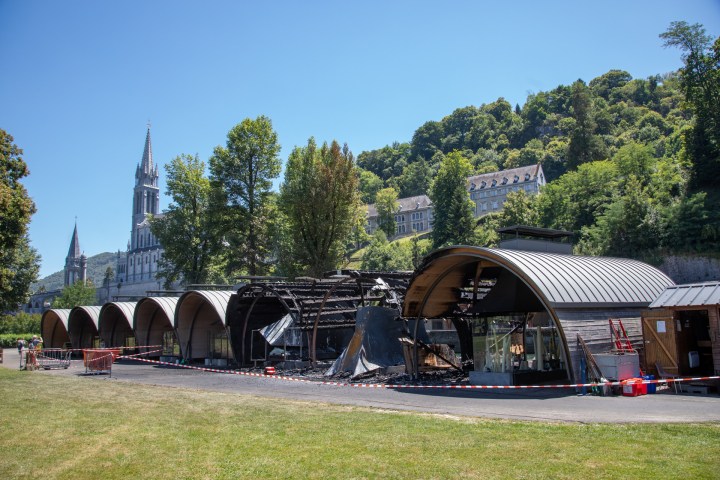 © Sanctuaire de Lourdes
Rector of the shrine Bishop Olivier Ribadeau-Dumas lamented on Twitter that the tragedy comes as "a new blow for the shrine." Indeed, the damage caused by the fire is very significant. "The estimate of the complete reconstruction of the chapels and the replacement of equipment amounts to at least 1.5 million euros," says the shrine that continues to recover from the consequences of the global COVID-19 health crisis.
Un nouveau coup dur pour le Sanctuaire @lourdes_france qui n'en avait pas besoin. Mais l'essentiel est qu'il n'y ait pas eu de blessés et que les pèlerins puissent continuer à prier dans les chapelles qui restent en continuant à faire brûler un cierge. https://t.co/cZZZKdVzTR

— Olivier Ribadeau Dumas (@ORDUMAS) July 10, 2022
"But the most important thing is that no one was hurt and that pilgrims can continue to pray in the remaining chapels by continuing to light a candle," wrote the man who was recently named rector-archpriest of Notre Dame Cathedral in Paris. Father Michel Daubanes will succeed him as rector of the shrine at Lourdes on September 1. "Even though investigations into the origin of the fire are continuing, we understand that it was accidental," says the shrine.