The Holy Father tested negative for Covid, but has felt respiratory difficulties over the last few days.
While we reported a few hours ago that Pope Francis had gone to the Gemelli Hospital in Rome for checkups that were previously scheduled, the Vatican now has updated the report:
A note from the Vatican press office at 8:30 pm stated:
In the past few days Pope Francis has complained of some respiratory difficulties and this afternoon he went to Policlinico A. Gemelli for some medical checks.

The outcome of these showed a respiratory infection (excluding Covid 19 infection) that will require a few days of appropriate hospital medical therapy.

Pope Francis is touched by the many messages received and expresses his gratitude for the closeness and prayer.
Pope Francis, 86, had part of his right lung removed when he had severe pneumonia as a youth.
The Holy Father shared something of that experience in a piece for the New York Times on Nov. 26, 2020.
I remember the date: Aug. 13, 1957. I got taken to a hospital by a prefect who realized mine was not the kind of flu you treat with aspirin. Straightaway they took a liter and a half of water out of my lungs, and I remained there fighting for my life. The following November they operated to take out the upper right lobe of one of the lungs. I have some sense of how people with Covid-19 feel as they struggle to breathe on a ventilator.
He has recounted how on that occasion, a savvy nurse saved his life.
The Holy Father was transported to the hospital earlier today via ambulance.
Heart?
In fact, the Argentinean journalist Elisabetta Piqué, considered to have good sources in the Vatican, reports in the columns of La Nacion, that Francis might have suffered a heart attack today.
She reports from her sources that on his return to Casa Santa Marta, after the general audience in St. Peter's Square, the Pope began to feel "chest pains." His personal doctor, Massimiliano Strappetti, advised him to go immediately to the Gemelli Hospital, where he was taken by ambulance. During the audience, he seemed to be fine, though clearly experiencing the pain in his knee at moments of changing from sitting to standing, and moving from the popemobile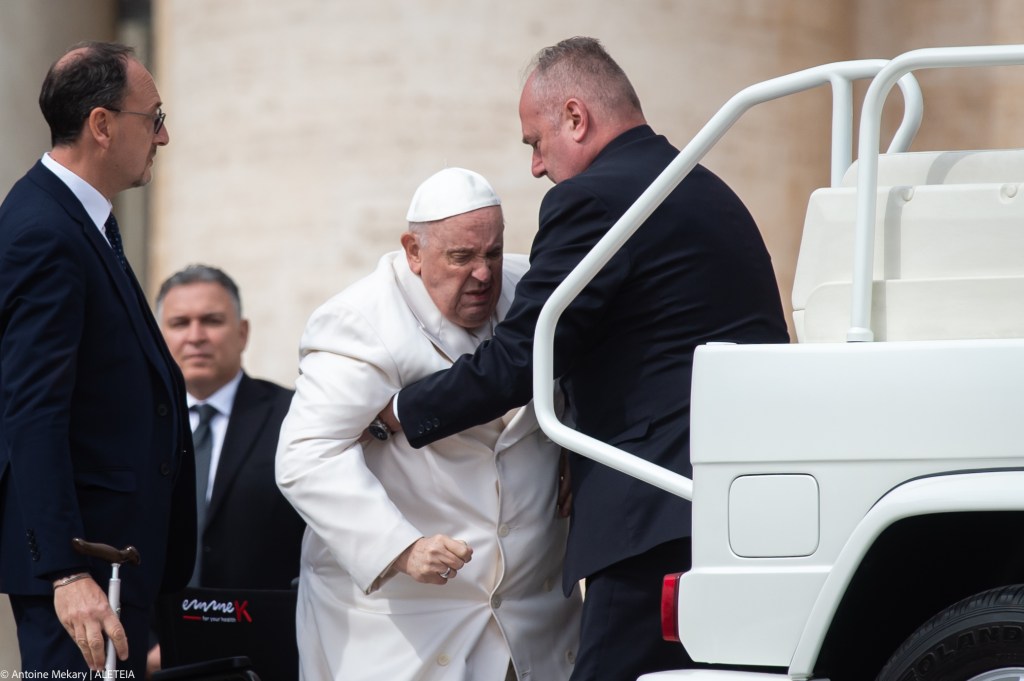 Piqué notes that in the book "The Health of Popes" (2021) by Nelson Castro, Pope Francis says that in 2004, when he was Archbishop of Buenos Aires, he had a heart problem, a "pre-infarction." But after being hospitalized for a few days, he has had no further heart issues.
[Article updated after publication]