Overlooking a desolate landscape, the Saint-Michel de Brasparts chapel located in the Monts d'Arrée (Finistère) barely escaped a fire. Today, it embodies – more than ever – the fight against evil.

The Saint-Michel chapel in Brasparts (Finistère) was surrounded by flames on Monday, July 18, but the fire miraculously stopped a few meters from the chapel. The church's rescue is no doubt due to the remarkable work of firemen, but one could also reasonably think that the Holy Spirit has also blown on the sides of the Mont Saint-Michel in the Monts d'Arrée. For a few hours, this small chapel located in the Regional Natural Park of Armorique and dear to the hearts of the Bretons was at the center of the fight to extinguish a rampant fire.
Mont Saint-Michel, "Menez Mikael" in Breton, is one of the highest points of the Monts d'Arrée, at 1200 feet above sea level. It's perhaps the highest point if you count the bell tower! It dominates a wild landscape of heather moors (pink when they are in bloom), the marshes of Yeun Elez and the lake of Brennilis. It's a land of legend, mist and peat.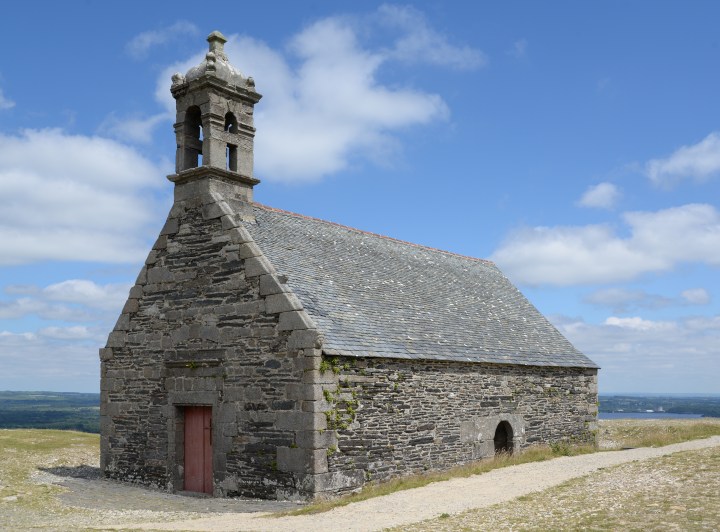 Shutterstock I Volker Rauch
A place of devotion
The site was a place of worship for the druids. Menez Mikael remains one of the sacred mountains of Armorique. The first Catholic chapel was built there in 1674. It was consecrated on September 29, 1677, Saint Michael's Day. The small sanctuary was first frequented by shepherds.
After the Revolution it was left in ruins, but the chapel nevertheless continued to be a place of devotion. The piety of the parishioners of Brasparts justified its reconstruction between 1820 and 1821. The west door was renovated and the 17th century bell tower was put back in place. The chapel was restored in 1892 and again in 1945.
This modest building made of local granite has been visited without interruption for centuries. Peasants come to implore Saint Michael to obtain good weather during the harvest or in search of healing for a sick relative or friend. At the beginning of the 20th century, pilgrims could be seen walking around the chapel barefoot. Saint Michel qui ut Deus ("Saint Michael who is like God") is particularly venerated in Brasparts.
The Pardons
For centuries, Pardons have taken place every year at Saint Michael and even twice a year in May and July, respectively. A "Pardon" is a traditional Breton feast, often including processions and the availability of confession. Between 1915 and 1918, the Pardon of Saint-Michel de Brasparts was particularly popular with many pilgrims who came to pray for peace and the return of soldiers. A Pardon is still celebrated every year. The most recent one took place last Sunday, May 22nd.
Always open
Some days the wind blows so hard that you can only enter through the small side door. But the chapel is always open! It welcomes more than 150,000 visitors per year, hikers of the GR34 and believers of all kinds. The chapel of Saint-Michel de Brasparts has always fought against winds and tides, after all, didn't Saint Michael slay the dragon? Michael, help us in the struggle: each one knows what struggle he must lead in his own life today," Pope Francis said on September 29, 2017. "Each of us knows the main struggle, the one that makes us risk salvation."