Three people were killed and others injured when a Russian missile hit a bus stop in front of a Kharkiv mosque on July 20. Among the victims was a 13-year-old boy.
A13-year-old boy and a couple were killed while waiting for a bus in Kharkiv during a Russian missile strike on July 20. The boy 's 15-year-old sister was also injured. The Kharkiv Sunna mosque was also destroyed in the shelling.
Russian has not commented on the attack. Since the beginning of the invasion of Ukraine, Russia has denied that its military deliberately targets civilians. After a period of relative calm, Kharkiv has endured almost daily shelling in recent weeks.
The Ukrainian ambassador to the United States, Oksana Markarova, wrote on Twitter, the boy's father prayed over the body of the 13-year-old for two hours.
💔Ukrainian father who holds the hand of his 13 year old son killed by russian shelling in Kharkiv today. His sister is wounded. The father read prayers over his son for two hours. After the attack three people were killed. We must stop criminal and terrorist russia now! ✊🏼🇺🇦 pic.twitter.com/dvsazBvSf8

— Oksana Markarova (@OMarkarova) July 20, 2022
Civilian deaths in Ukraine
According to the (significantly incomplete, as emphasized) data of the United Nations High Commissioner for Refugees (UNHCR), 5,110 civilians have been killed in Ukraine since the beginning of the Russian invasion. An additional 6,752 have been injured. This number includes at least 346 children killed (as of July 17). However, significantly higher estimates are being reported by Ukrainiansources.
The most deadly Russian attack on civilian targets in recent days took place in the town of Taziv Yar in the Donetsk Oblast. The July 9 missile strike on an apartment block, killed 48 people, including a child.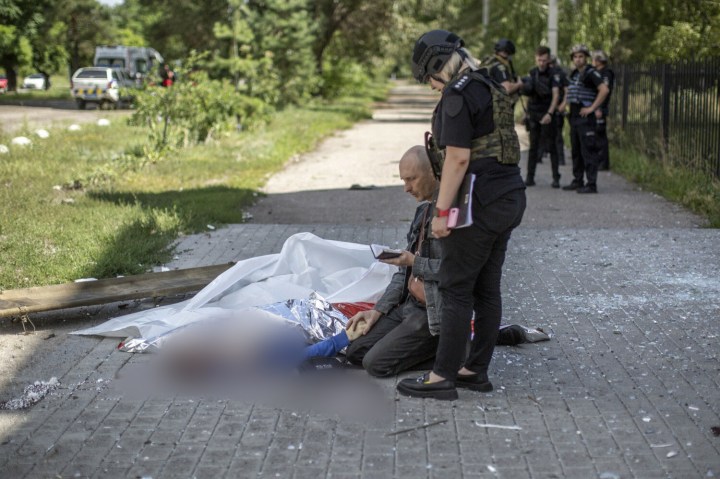 Let us pray for peace
Saint John Paul II taught us, "Peace is our work: it calls for our courageous and united action. But it is inseparably and above all a gift of God: it requires our prayer." Let us beseech the Mother of God for her intercession, praying the late Pope's prayer for peace:
We ask you, Queen of Peace,
to help us respond with the power of truth and love
to the new and unsettling challenges of the present moment.
Help us also to pass through this difficult period,
that disturbs the serenity of so many people,
and to work without delay to build every day and everywhere
a genuine culture of peace.