With her husband and six children, she participates in the show "Familles Numerous" on TF1 to share her daily life as a mother who loves, works and prays, amidst the joys and sorrows of life. Marie-Caroline Cail, 34, tells Aleteia about this great adventure that is life.
Marie-Caroline Cail, also known under the nickname blondiemamaaa on Instagram, lives near Lyon with her husband and six children: Théophile, 15 years old, Edouard, 12 years old, Gaspard, 10 years old, Ernest, 6 years old, France, 5 years old. and Basile, 2 years old. She shares her daily life in the show Familles Nombreuses , season 7 of which is broadcast every day at 5:25 p.m. on TF1. Married for 13 years, and both from large families, Guillaume and Marie-Caroline Cail have a joyful and radiant faith, despite the difficulties encountered on their path. They do not hesitate to bear witness to this faith which guides them on a daily basis, while remaining parents of their time, with questions, doubts about the education of their children, and a more than busy daily life between professional life, the school supplies and the fridge to fill for six growing children!
Aleteia: Why did you agree to participate in this Large Families show on TF1?
Marie-Caroline Cail : To experience something extraordinary as a family, a new adventure and also to discover a little behind the scenes, how a show is filmed, how it is filmed and edited… And then we said to ourselves that it was also a good opportunity to show a modern family anchored in reality, unapologetically Catholic, where the most important values ​​for us, which are fraternity, charity and family, are shown on the screen.
You both work full time, how do you manage daily life with six children who are still young, from 15 to 2 years old?
Indeed, Guillaume is director of the Pierre school, for my part I work for a health training center. For everyday life, I start very early and leave the house first, it is Guillaume who manages the trips to school and nursery for the last four, our two older children are independent. In the evening, it's me who finishes early to ensure the return home and this famous "tunnel" from 6 p.m. to 8 p.m. well known to all parents!
And how do you experience your media and network exposure?
Pretty good I think, on Instagram, the atmosphere is really very welcoming, we meet great people and we can have great exchanges. On Facebook it's more complicated, there's more nastiness, so we try not to read, to take a step back and not to be touched. I also admit that we don't watch the daily shows we're on, just to keep our spontaneity and not look at each other all the time! In the street sometimes, I'm allowed smiles or little nods, it's always very nice and very kind. For the moment, the children haven't had much feedback either, and that's a good thing I guess.
Can you tell us about your faith journey?
Guillaume grew up in a Catholic family, my mother was Catholic and my father Protestant. We were raised Protestant initially, and then one Sunday morning, while we were living in Nantes as a family, the temple down the street was closed so my parents took us to a church that was nearby. My father converted, and then we were all baptized, for my part I was six years old then. Since then, despite the difficulties encountered in life, I have always kept the faith. I was married in the church at the age of 20, and all of our children were baptized as infants.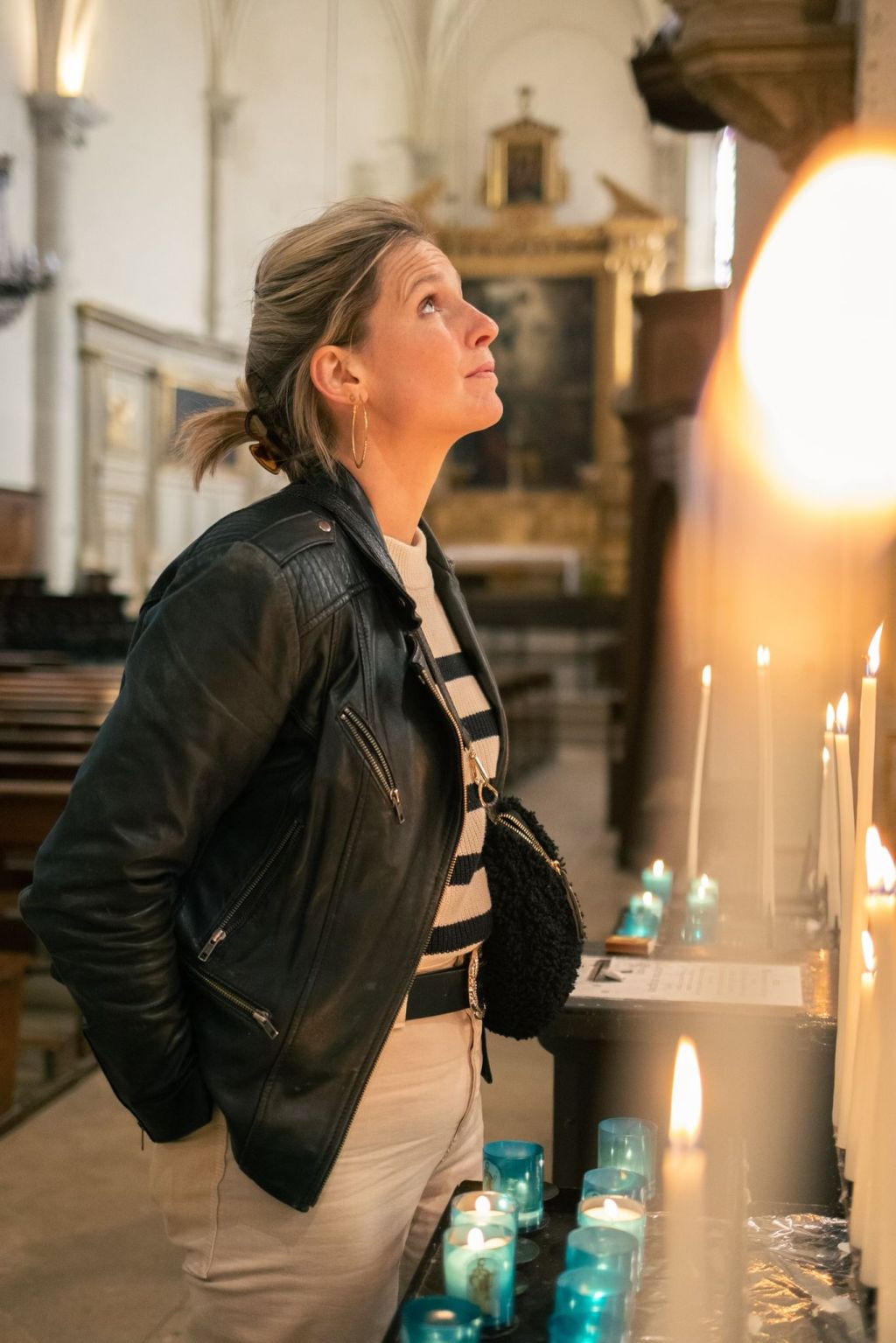 You mention your difficulties, can you tell us more?
We have known several of them, like many families. For my part, the divorce of my parents when I was a teenager, and for Guillaume the sudden death of his mother four years ago. And then, two years ago, while giving birth to Basile, our sixth, I had a massive pulmonary embolism, I fell into a coma and I saw myself die. I was in absolute emergency, and yet incredibly, I finally woke up, and that's when I had an experience of faith. I experienced God, when I woke up, I felt saved. It's still difficult to explain it in words today, it was All Saints' Day, and it's as if the saints in Heaven had told me "there's no room, Guillaume's mother is already up there, stay down."
We were truly surrounded by love, this love that comes from God.
From this experience I understood that it is truly in suffering that God manifests himself. For his part, Guillaume told me that he never suffered as much as during the three days of my coma, and yet, that he had never had so much faith and trust in God. We really felt the power of prayer. All our friends, our families, organized prayer vigils in our living room, at their homes, it was incredible, there was such fervor. We were truly surrounded by love, this love that comes from God.
Since this accident, has your relationship with God changed?
For sure ! I have the feeling of having been very spoiled by discovering the price of life. Everything else seems insignificant afterwards, and I welcome the little difficulties of life with confidence, step by step, without saying to myself "can't wait for tomorrow". I live in everyday life, I no longer feel sorry for myself. And I am in perpetual thanksgiving, at least 50 times a day, I thank the Lord. When I pray, I am not asking for anything for myself, I am just in praise. Sometimes I feel sad for those who don't know God yet, because everything is so different when you have Him in your life! I believe that one of the most beautiful things I have received since my accident is this experience of grace. When I pray for friends who are going through suffering, I pray that they too will see God's grace in what they are experiencing.
How do you pray as a family and talk about your faith on the show?
Our faith is not ritualized. When we pray together in the evening, it is always very spontaneous. A child sings a song he likes, another expresses a prayer or a thanksgiving, it's true that in our country, we give thanks a lot! Otherwise we go to mass in a parish, near Lyon, but without the cameras! I don't talk more than that about my faith on social networks, but I believe that the people who follow us understand our values, because very often I receive messages like "thank you for your testimony of faith". I feel like our faith shines through and is seen in a joyful and positive way. This is what we hoped for by participating in this show.
Who is the saint who inspires you?
I am very attached to Saint Mother Teresa , and especially to this phrase from her: "Give your hands to serve and your heart to love". It's so made for a mother! For me, this is truly the genesis of motherhood, as I experience it. My daily service, in household chores, in education, this famous mental load, is my way of expressing my love to each of my children. Since I was little, I always wanted to be a mother, because I was fascinated by my mother, her service, her dedication, her presence, her love given to everyone, even though we were ten children! My accident made me realize that everything must be done out of love, and that for me, motherhood is also therapeutic. I reveal myself, I grow, through my children, who are all gifts from God, and it's fascinating.
This mental load that you mention, how do you distribute it with Guillaume?
Our roles are well distributed. I manage the daily life 100%, but it's because I like it, it's what I want. I find meaning in it, it's my way of experiencing motherhood and showing my love to my children. For his part, Guillaume spends a lot of time with the children, he plays a lot with them, he organizes walks, many different activities because he wants to detect everyone's talent. He is really keen to develop their uniqueness within this great brotherhood that is ours. May each of our children feel unique, loved, and be able to develop their own talents, with their own character.
Recently you experienced a very special day, renewing your wedding vows, tell us about it?
Ah yes, this day, I will remember it all my life. Since my accident, we have been very shaken, and although I am full of praise and love for life, our relationship suffered and we wanted to move on. This is why we decided to organize a big thanksgiving celebration, with all our families and friends who have been so present for us, and all this under the gaze of God. We began the day with a mass during which we exchanged wedding vows again, followed by a blessing by our parish priest.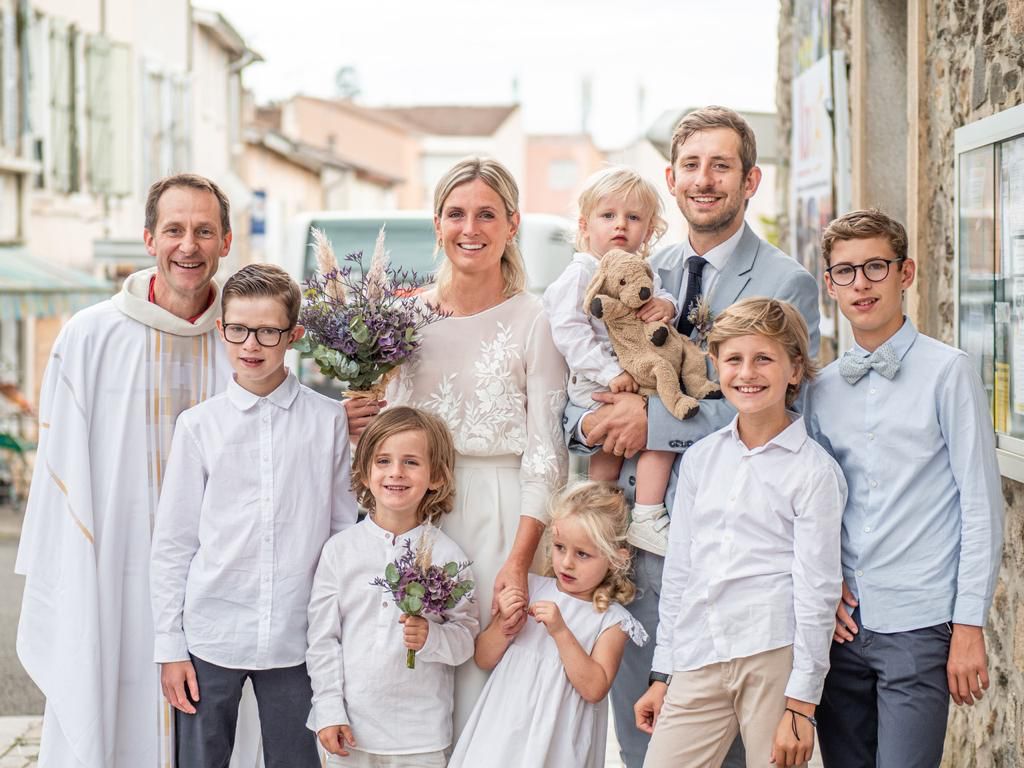 Instagram blondiemamaaa
We said "yes" to each other again, but we also asked each other for forgiveness, it was so powerful! Afterwards we organized a big country lunch, the musicians from the Pierre school provided the music, there were speeches, songs, it was such a joyful family moment. I cried all day with joy and emotion. Our children were also very touched, and some of our friends were upset, I even think some shed a little tear! Our message was to say loud and clear that love is stronger than anything, but that a marriage is not a formality, it is renewed every day, every day, in joys and in trials.