The body of Sister Wilhelmina Lancaster, who started the Benedictines of Mary, Queen of Apostles, has undergone very little decay since her death four years ago.
A community of nuns known as the Benedictines of Mary, Queen of Apostles in Gower, Missouri, discovered that the body of their foundress, Sister Wilhelmina Lancaster, has undergone very little decay after being buried in the ground for nearly four years. 
If that's not surprising enough, Sister Wilhelmina, who founded the community in 1995, was not embalmed after her death at age 95 on May 29, 2019. She was buried in the abbey's private cemetery in a simple pine box, without a vault protecting her body from the elements.
While the synthetic lining of her coffin had disintegrated, the habit Sister Wilhelmina wore, made of natural fibers, did not.
Expecting to find just bones, the nuns discovered a fully enfleshed corpse, looking much like Sister Wilhelmina did when her sisters said goodbye to her at her funeral in 2019.
The Catholic Church has recognized that on rare occasions certain bodies of saints have not suffered the process of decomposition. This is deemed a miraculous event and is most dramatic in cases where the saint has been buried for decades or centuries and their body remains fully intact. A saint's body is always investigated before they are canonized and even though the ultimate decision to canonize someone does not rest on incorruptibility, it certainly helps the cause.
According to Father William Saunders, this incorruptibility "remains a sign of the holiness of the life of the individual" and "is indicative of the person's mortal remains being prepared for the glorious resurrection of the body."
Recognizing her intercession
The nuns believe that Sister Wilhelmina might be considered an incorruptible saint – joining a long list of Catholic and Orthodox saints whose bodies have largely resisted the decay and decomposition that normally occurs in death.
"We had received so many favors in our community over the years since Sister Wilhelmina's death," said Sister Misericordia, sub-prioress of the community, in an interview. "And then people outside of the community also started receiving very significant and very obvious indications of her intercession in serious matters. As time went on, after much prayer and thought, Reverend Mother [Cecilia, the abbess] just really felt that the rightful place of Sister Wilhelmina was in the church, and this is something that's very commonly done."
The community had long planned to build a shrine dedicated to St. Joseph, Sister Misericordia continued, "and we thought, well, we're going to have it installed now, and so that would be a good time to go ahead and move Sister's bones" to be part of that shrine.
So on April 28, the sisters exhumed Sister Wilhelmina's body.
"And then that's when we discovered that she was incorrupt," said Sister Misericordia. "I mean, she's very very well preserved."
She said that the state of the foundress's body is a "very strong indication" that "there's something very special about her that God would preserve her in this way."
"Her skin, her muscles, they're all there," the nun said. "All the undertakers we've asked about this said this is not possible. They're usually gone within a few months, especially in a case like this where there's no embalming, no vault."
Hordes of visitors
Word began to spread about the discovery, and there ended up being hundreds of people visiting every day to see Sister Wilhelmina's body and pray next to it. Visitors came from as far away as Texas and Florida, Sister Misericordia said.
This weekend, on the anniversary of Sister Wilhelmina's death, her body will be placed within the St. Joseph Shrine, behind glass.
"The people who are coming, they just feel so renewed in their faith, just really inspired," said Sister Misericordia. "God raises up saints even now. Saints walk among us now, and he's calling all of us to be saints, and I think for a lot of people that's really the message they're taking from her, that you are called to personal holiness."
A long life of devotion
Sister Misericordia believes that many people today will be able to relate to Sister Wilhelmina's own life story as they struggle with various issues such as living the faith in the midst of a modern, secularized culture, and dealing with difficult family relationships.
Born on April 13, 1924, Mary Elizabeth Lancaster grew up in St. Louis, Missouri, and felt an early attraction to religious life. She entered the Oblate Sisters of Providence, beginning her formation in 1941. As an Oblate, she taught in the Archdioceses of Baltimore, Washington, Charleston, St. Louis, Philadelphia, and Miami.
According to her obituary in The Catholic Key, newspaper of the Diocese of Kansas City-St. Joseph, in 1995, after 50 years as an Oblate Sisters of Providence, Sister Wilhelmina formally left her community to found the Benedictines of Mary, Queen of Apostles, in the Diocese of Scranton, Pennsylvania. The community is a traditional, contemplative order consecrated to prayer and sacrifice for priests through the Rule of St. Benedict. They celebrate the liturgy as it was before the Second Vatican Council-era reforms.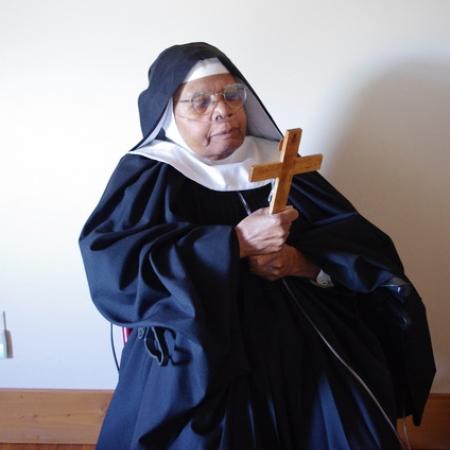 Courtesy of Benedictines of Mary, Queen of Apostles
In 2006, the community moved to the Diocese of Kansas City-St. Joseph and specifically, in 2010, to Gower. Sister Wilhelmina was the order's first prioress. In 2014, the Benedictines of Mary, Queen of Apostles, received formal recognition from the Vatican.
The 50 or so nuns in the community today devote about five hours a day to the chanting of the Mass and Divine Office and private prayer. The sisters' remaining time is spent doing manual labor, such as sewing vestments for priests, gardening, cooking, and farm work.
They have also become known for their CD recordings of Gregorian chant.
Bishop planning investigation
A spokeswoman for the Diocese of Kansas City-St. Joseph said that Bishop James V. Johnston is "working to identify a process to determine the circumstances of Sister Wilhelmina's particular condition."
In a statement, the bishop said that it is "important to protect the integrity of the mortal remains of Sister Wilhelmina to allow for a thorough investigation."
"I invite all the Faithful to continue praying during this time of investigation for God's will in the lives of the Benedictines of Mary, Queen of Apostles; for all women religious; and all the baptized in our common vocation to holiness, with hope and trust in the Lord," the bishop said.