The Church of Maria Lanakila miraculously survived the conflagration that destroyed much of the surrounding area – but survivors urgently need help.
When wildfires swept across the island of Maui in the state of Hawaii this past week, the historic town of Lahaina suffered grave damage. Shocking videos show vast areas of destruction, with every building in sight razed. At least 93 people are reported to have died in the conflagration.
Hawai'i Dept of Land and Natural Resources
Initially, it was believed that the local Maria Lanakila Catholic Church had also burned down. Maria Lanakila means "Victorious Mary" or "Our Lady of Victory" in the Hawaiian language. Remarkably, when some residents were allowed to return to Lahaina, their photos and videos revealed that Maria Lanakila church and its rectory remained standing – even though most of the nearby buildings had been leveled in the fires.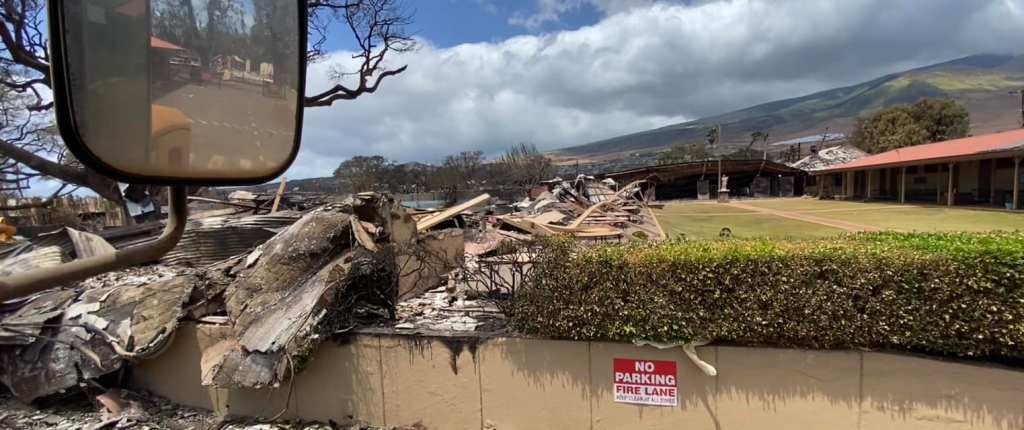 Msgr. Watanabe, the pastor of St. Anthony of Padua parish — which stands on the opposite side of the West Maui Natural Area Reserve from Maria Lanakila Church — told The Pillar that affected islanders face numerous problems in the coming days, including lost phone service, homelessness, and unemployment since many businesses were destroyed.
"People are just shocked and kind of devastated," Msgr. Watanabe said in the interview. He added that though federal and state aid will eventually come to the area, it will take time. Asked to identify the most urgent needs, he responded:
Well, number one is prayers. That's the most helpful, obviously, at this point in time. And then I think, any kind of donations.
Catholic Charities of Hawai'i has sent an urgent plea for help. Donations can also be made directly to Sacred Hearts School.
Parishioners gather
As reported by the Associated Press, parishioners of Maria Lanakila gathered on Sunday about 10 miles from the church, to attend a Mass that was presided by the bishop of Honolulu, the Rev. Clarence (Larry) Silva. They prayed for the dead and missing and gave thanks for the survival of their church. The bishop read a message from Pope Francis to the congregation.
Survival and hope
The Catholic Church has a rich history in Hawaii. The parish of Maria Lanakila is an important part of that history, having been founded shortly after Catholic priests arrived in Maui in 1846. The current church was built on the foundation of the original church in 1927. It was formally named part of the Lahaina National Historic Landmark District in 1962.
Many locals already see the survival of Maria Lanakila Church as a sign of hope. "I firmly believe that Lahaina will be restored," one commenter on TikTok said. "This is confirmation. He's calling us to be saved. The doors of the church (are) open." And a Facebook commenter said, "May she be the beacon of hope to the people of Lahaina!!!!"
Another Facebook commenter no doubt spoke for many when she wrote: "Prayers of love, hope and strength to endure this tragedy."