This February 11, 2022, the Church celebrates the 164th anniversary of the first apparition in Lourdes of the Virgin Mary to Bernadette Soubirous, then aged 14. His first instinct? Grab the rosary that was in his pocket and make the sign of the cross.
On the morning of Thursday February 11, 1858, Bernadette, her little sister Marie known as Toinette and Jeanne Abadie, a friend, set out to collect kindling between the Gave and the Savy mill canal. Jeanne and Toinette ford the canal in the freezing water, but Bernadette, having promised her mother not to catch a cold because of her asthma, hesitates to cross the watercourse. She remains on the island, facing the cave, trying, in vain, to find another passage.
As she begins to take off her shoes to join her companions, she twice hears the sound of "a gust of wind". She is surprised, because there is not the slightest breath in the air. She turns back to the meadow to check, and indeed the poplars are still. She then looks up towards the cave, and there, in the niche of the rock, sees a female silhouette which she describes as follows: "A lady dressed in white; she had a white dress, a white veil, a blue sash and a yellow rose on each foot."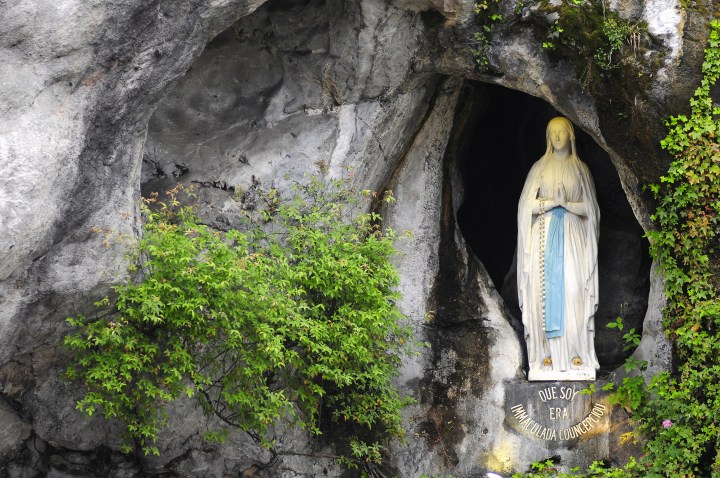 Sebastien Desarmaux / Godong
Disbelief, fear, then great peace
Bernadette rubs her eyes, thinking she is wrong. But the lady is still there and smiles at him peacefully. She then puts her hand in her pocket and grabs her rosary. Then she raises her hand to try to make the sign of the cross. But under the effect of the shock, she is unable to raise her hand to her forehead, which then falls trembling along her body.
At this moment, the Virgin, as if setting an example, herself makes the sign of the cross. Bernadette tries again and this time, succeeds. "As soon as I made the sign of the cross, the great shock I felt disappeared. I got on my knees and said the rosary, in the presence of this beautiful Lady," says Bernadette. The Virgin also runs the beads of her rosary between her fingers, without moving her lips. Once the prayer is finished, she signals Bernadette to approach but the young girl does not dare. Then the vision suddenly disappears.
It was the first of 18 apparitions of the Virgin Mary to Bernadette Soubirous at the Massabielle grotto, which continued until July 16, 1858.